Why do people come to AlisonInk for creative marketing communications? Because we get it.
We get what you're trying to say.
We see what you're trying to accomplish.
We understand, in an instant, how to help you get from point A to point B.
And, once we get it, we know what to do with it.
Define your strategy

Target your audiences

Clarify your message
Create easy-to-understand content

Support the strategy in tone and images throughout

Project

Client
My role
Backstory
Stroke Brochure

Northwest Community Hospital

Strategy, Writing, Project Management

Northwest Community Hospital promotes itself as a progressive, forward-thinking health resource. They have also undergone a total rebranding with strict rules about how material should be communicated in tone and language.

Recently certified as a Stroke Center, NCH needed to notify physicians in the northwestern Chicago suburbs for emergency referrals. I recommended this case study be incorporated into the brochure. The images show a blood clot being broken up within hours of the stroke, and the notes explain that the patient regained close to full use of his limbs within hours. The simplicity and directness of the message was effective in reaching busy physicians, while maintaining the brand.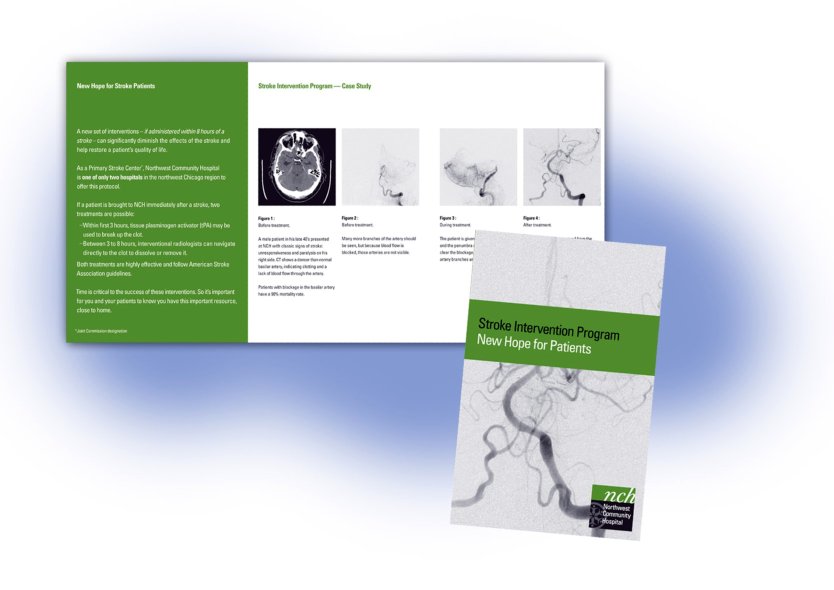 Project
Client
My role
Backstory

NCH Web Site Edit
Northwest Community Hospital
Editor, researcher, project manager
The service line managers recently determined that 14 major service line sections on the NCH website needed to be thoroughly reviewed and updated. I was brought in to help them make each section of the site more consistent and informative. The sections reviewed include: Breast Care, Cancer Services, Gastroenterology Services, Heart Care, Immediate Care Centers, Interventional Radiology, Occupational Health, Orthopedic Services, Pancreas Health, Pediatrics, Prostate Care, Radiology and Imaging, Stroke and Surgical Services. (To date, most of the sections have not been updated online.)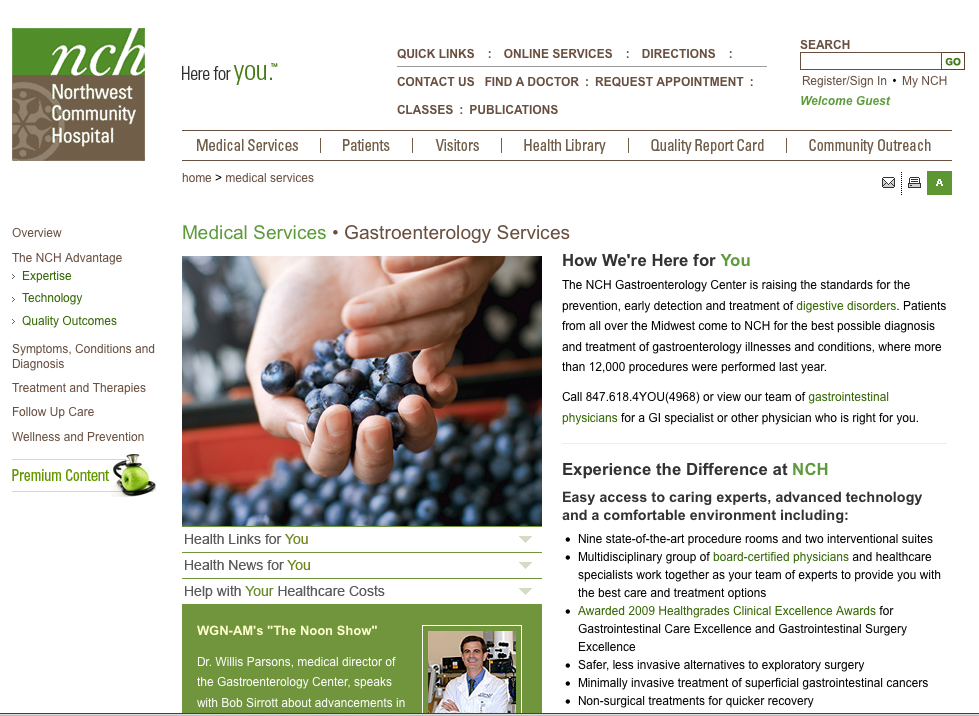 Project

Client

Link

My role

Backstory
Marketing Firm Website

Hildebrand Creative Group

www.hildebrandcreative.com

Writer, project manager, creative director

Nothing challenges a creative group like self promotion (think: the cobbler's son...).
It took several years for Hildebrand Creative to build a website that reflected the group in its true light: dedicated, hard-working, but not one to take itself too seriously.
The first sign of this attitude is the ant on the home page... keep an eye on him. The second is the animations on every page - not distracting, but just enough to keep you interested.
Finally, how to show proprietary and confidential work? On the "Our Work" page, images of graphics were purposely tilted and cropped in such a way that the viewer gets a rough idea of the content and design while protecting our clients' privacy.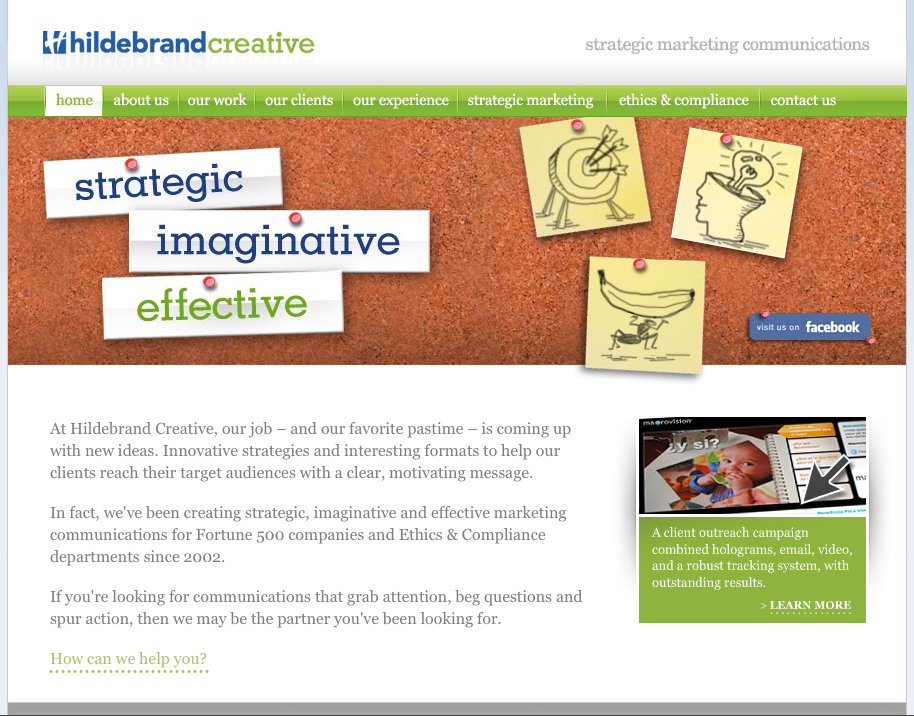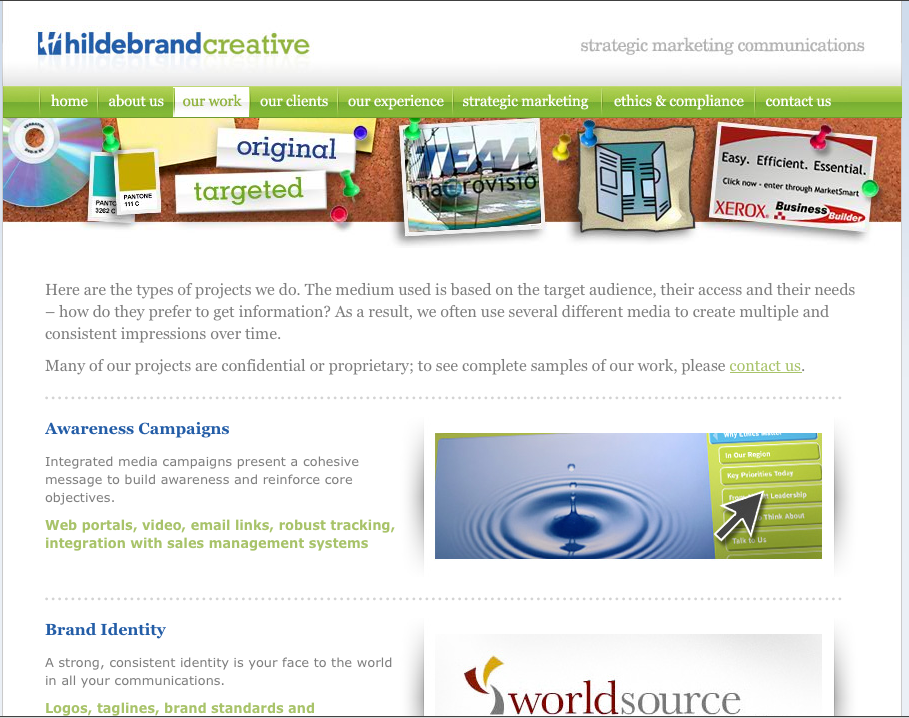 Project
Client
My role


Backstory
NCH Sleep Center Brochure
Northwest Community Hospital
Writer, project manager


The Sleep Disorders Center at Northwest Community depends upon referrals from physicians inside and outside the hospital. The #10 brochure on the left was written to introduce the sleep center process to potential patients. Two additional brochures were written to inform local physicians about the symptoms of a sleep disorder and the process of referring a patient.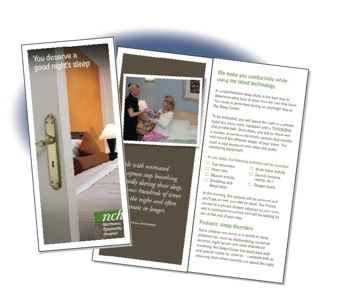 International Ethics microsite
http://hcgexperience.com/clients/abbott/microsite/

Abbott Labs Office of Ethics & Compliance
Creative Director, writer, project manager

Communicating to an international audience can get very expensive very quickly. The year before, Abbott's Office of Ethics & Compliance had created calendars that cost a fortune in translation, printing and shipping. This year, we recommended a different approach: a microsite featuring short videos and converted PowerPoint presentations that could easily be updated, region by region, into different languages. The site also features a back-end administrative section allowing regions to do the translations themselves for additional cost savings.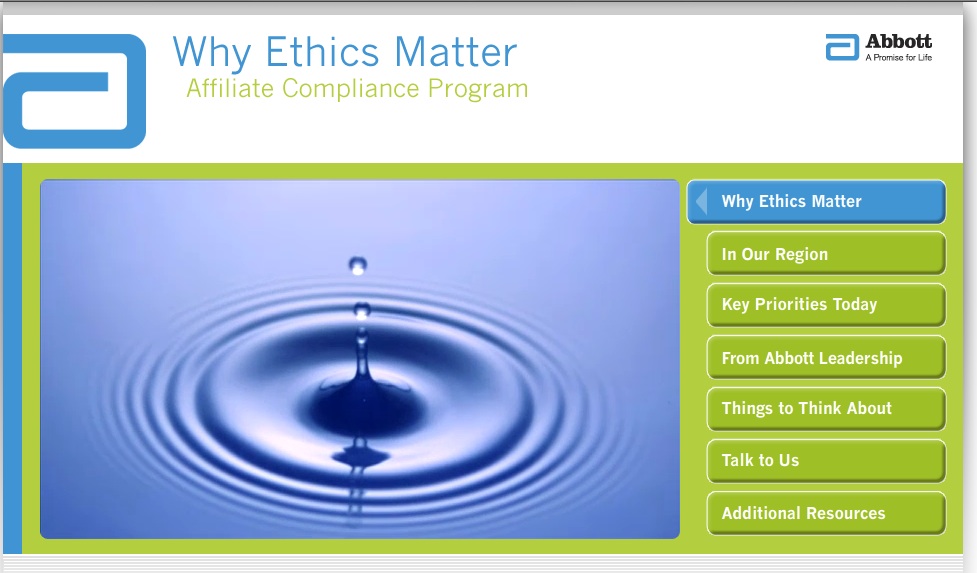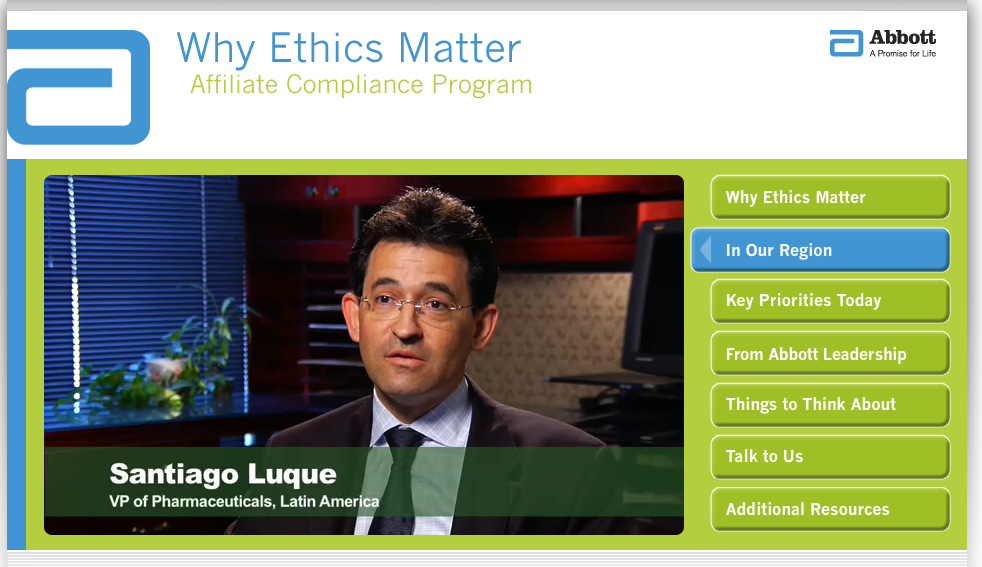 Project


Client


My role

Backstory
"Your Prescription for a Healthier Workforce" Web Launch

Caremark (now CVS/Caremark)

Strategy, Writing, Project Management

Caremark, a pharmaceutical benefits manager, wanted to position their expanded portal as an essential healthcare tool for plan participants. And they needed the help of benefits managers to do that. The campaign courted benefits managers in a series of interesting ways: a Flash email that took benefits managers to a microsite containing key information on the new site; an oversized prescription bottle filled with candy sent to each benefits manager; a CD within the bottle of easy-to-use promotional materials for participants. The entire program consisted of 23 separate components.

The project exceeded every metric originally established by the client. The program was launched in four phases over five months to more than 1,900 client-companies. The toolkit was used by more than 68% of the benefits managers and reached more than 1.5 million plan participants. The conversion rate to the new web site was more than three times the intended goal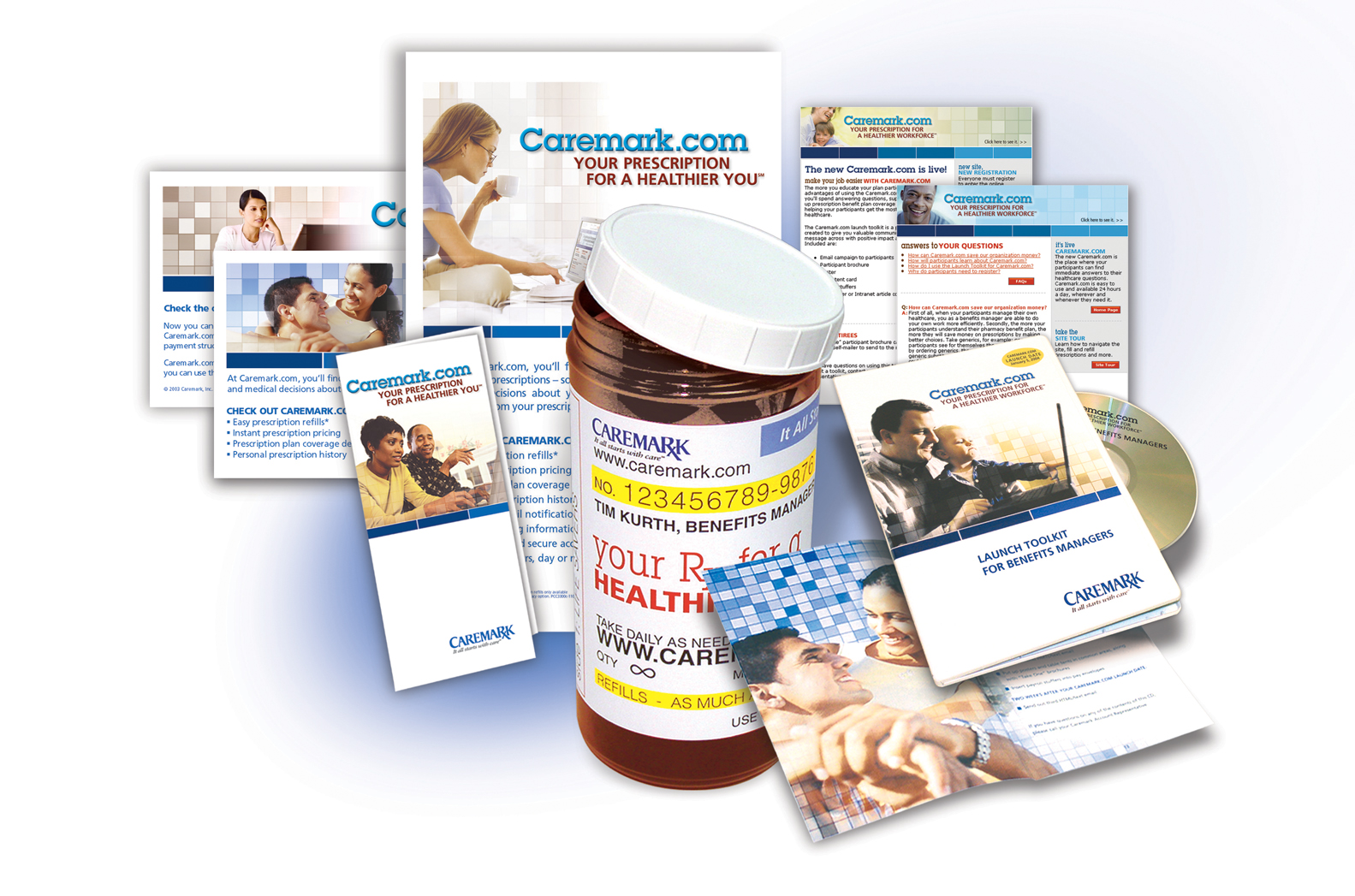 "Get to know" Name Change Campaign
Macrovision Solutions (now Rovi)

http://newmacrovision.hcgexperience.com/retail_e.htm

http://hildebrandcreative.com/demos/macrovision_campaigns/spanish/

http://hildebrandcreative.com/studios_jp.htm

Writer, director, interviewer, project manager, translation supervisor

Macrovision bought more than five well-known brands, including TV Guide, and divested itself of several others, leaving a workforce and clientele wondering: Who is Macrovision and what do they do?
We wrote and produced a 1-hour presentation that was played around the world for employees on Day 1 of the new company. It was so popular among employees that much of it was used to create a series of Client Outreach Microsites.

A full campaign of multiple lenticular postcards, emails and targeted microsites invited clients and prospects to "Get to know the new Macrovision." Through the use of personalized URLs, each recipient's response could be tracked and forwarded to the sales staff.

Several sites sites were also translated into Spanish and Japanese.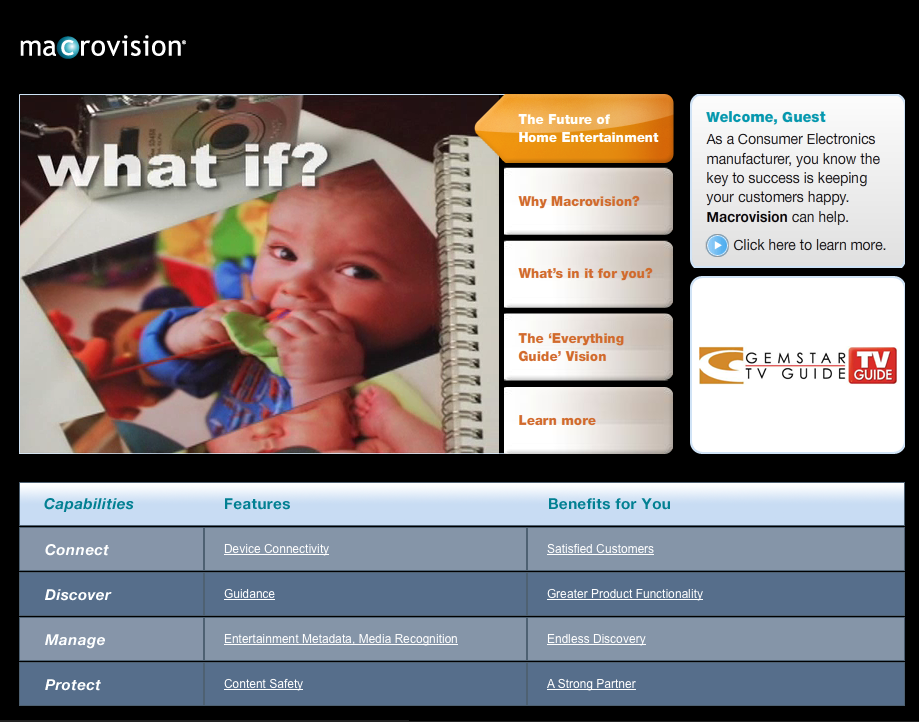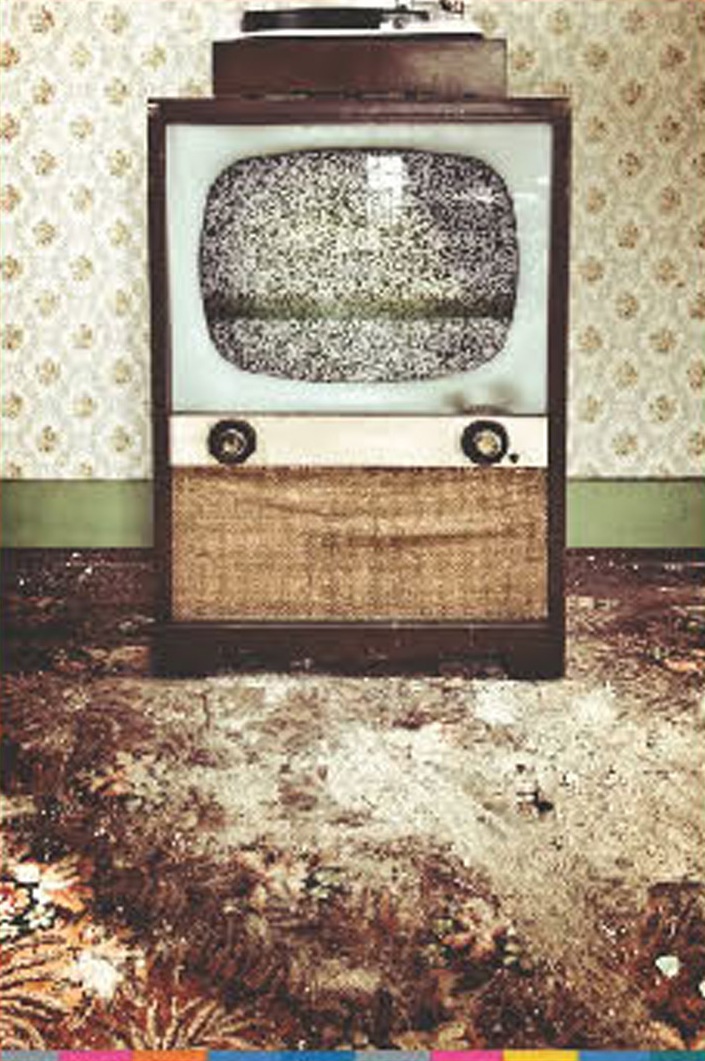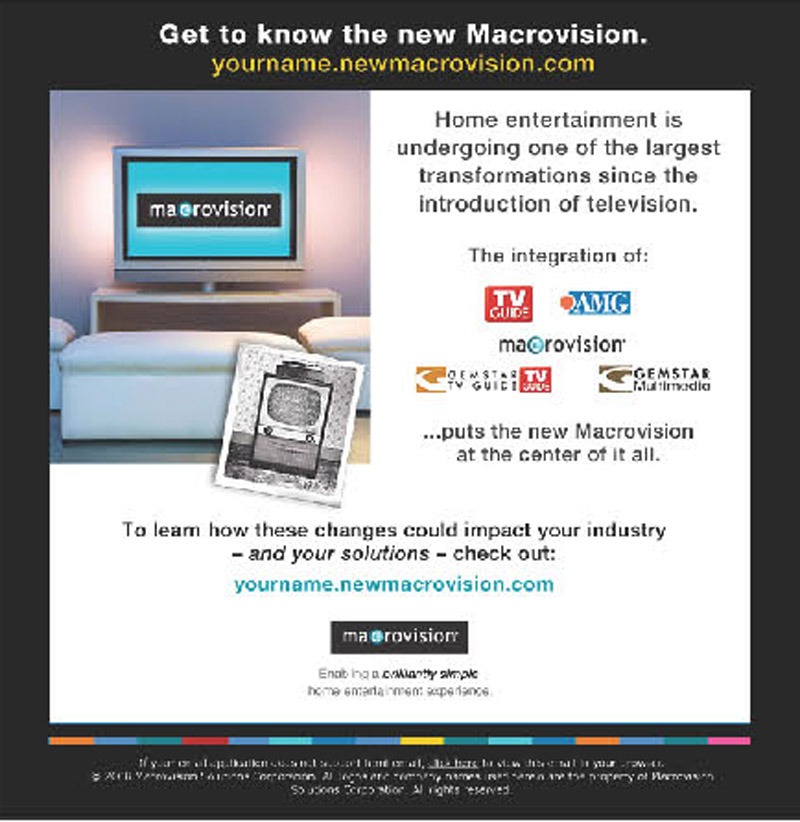 Project

Client

My role

Backstory
Specialty Pharmacy Kits
Caremark (now CVS/Caremark)

Writer, project manager

Caremark needed to communicate detailed medical and lifestyle information to patients with serious illnesses.
A convenient packet was developed that contained 5 folders with inserts, a booklet, refrigerator magnet and a pocket card. These packets would be sent to new patients, giving them a complete overview of their illness, lifestyle suggestions, medication information and contact information so they could reach nurses at their local Caremark Specialty Pharmacy branch if they had questions.
The entire program addressed 17 different disease states. Local branches were sent only the contents for those disease states that they serviced. Each packet could be customized to a patient's unique needs.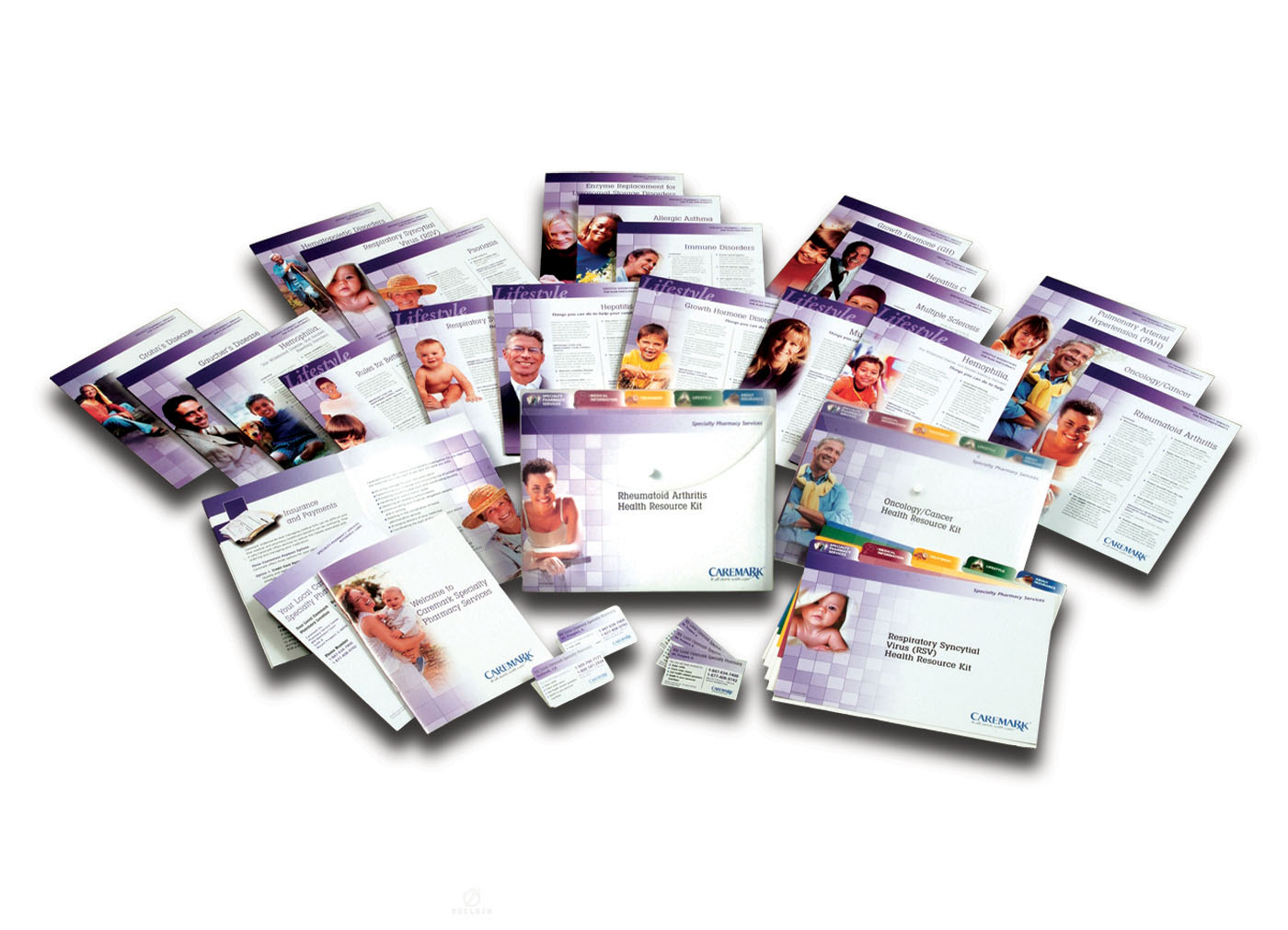 Project

Client

Link

My role

Backstory
IT Services Website

Bishop Technologies

http://www.bishopit.com/

Writer, project manager, creative director

Redirected IT reseller client away from positioning themselves as a commodity and moved them to more of an advisor for clients in need of email archiving and other services. Most of their current clients are law firms. We wrote the new site to be easily understood by any staffer who might be tasked with researching archiving solutions.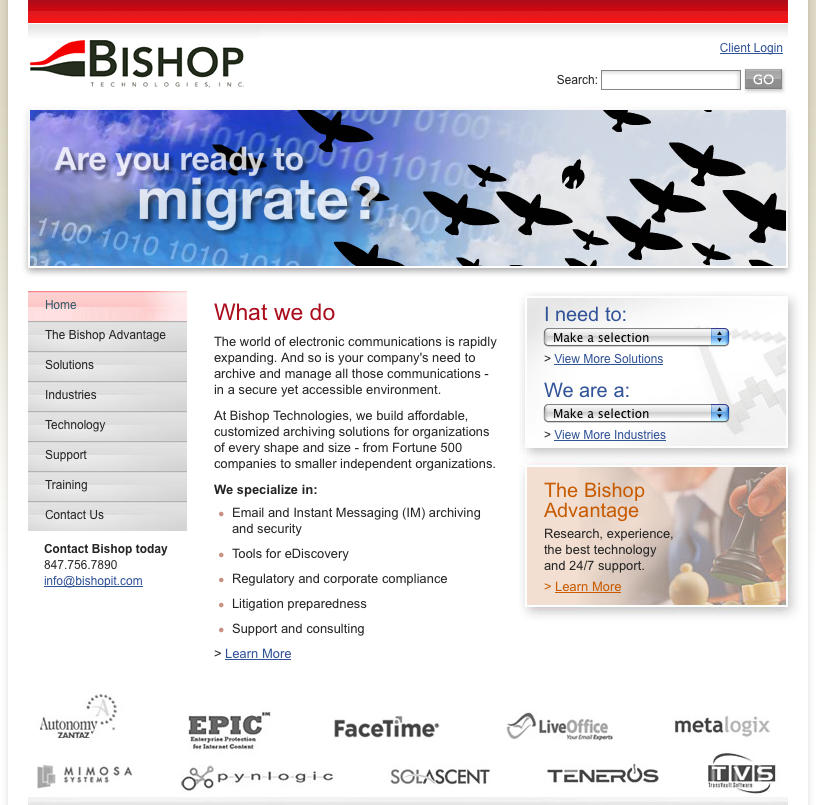 Project

Links





My role
Backstory

http://quizshow.hcgexperience.com/controller.cfm?gameID=14
http://score.hcgexperience.com/controller.cfm?gameID=14

Project manager, writer, creative director on four games

Ethics & Compliance Departments face a unique challenge: how to break down barriers and build rapport with an audience that fears them? Hildebrand Creative came up with a unique and wildly successful solution - games! Fun, raucous, competitive games based on ethics and compliance issues.
Used at company meetings and internal events, these games have helped dozens of national and international companies communicate ethics while also encouraging employees to relax and talk to ethics officers.

These interactive event games that are now licensed for use by Ethics & Compliance departments all around the country.